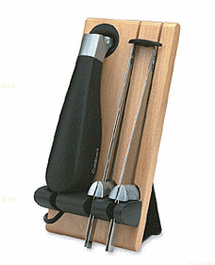 Electric Knife
The Cuisinart Electric Knife not only delivers high performance and great satisfaction, but is also a countertop space saver! Complete with two stainless steel blades, it's ideal for slicing meats, loaves, and vegetables. Also included is a solid wood butcher-block storage tray with safety lock system for storage in a drawer or on the counter.
Cutlery Guide
There's a lot to consider when looking for knives, but we're happy to help you figure out what best fits your needs.
Forged vs. Stamped
Forged knives - the Classic and Professional S series - can be identified by a bolster where the blade meets the handle. These knives have heavier handles and generally feel better when cutting. Stamped knives - the Gourmet and Twin Signature series - feel lighter. They're easier to manufacture and are more inexpensive. Feel free to stop by our store and hold the knives so you can feel the difference for yourself and decide what's right for you.
Types of Knives
There are many types of knives: chef's knives, paring knives, carving knives, and more. Here, we explain what they all do.
Chef's Knife: perhaps the most important knife. It can be used for fine or coarse chopping, dicing, and mincing of most foods.
Carving/Slicing: for larger cuts of meat and cutting larger fruits and vegetables. Slicing and carving knives are essentially the same.
Utility: essentially the same as carving and slicing knives, except that their smaller blades make them better suited for working with smaller pieces.
Paring: the most versatile knife. It can be used for mincing shallots, herbs and onions. It can also cut and clean vegetables.
Santoku: oriental chef's knife designed for chopping.
Boning: a necessity for de-boning meat. The pointed, tapered blade allows the user to work around joints with ease.
Fillet: make filleting fish or preparing carpaccio much easier due to the flexibility of this thin blade.
Knife Sharpening
All knives have microscopic teeth. With use, those teeth bend. Use a sharpening steel to keep the teeth as straight, and as strong, as possible. However, over time, those teeth will break. We offer professional knife sharpening, which restores the knife's sharp edge. Call or stop by for pricing. You'll get your knives back in only two business days!